Vintage Holiday Home for 5 in North Iceland
Skólagata in Northwest Iceland, close to
Hofsós

(0 km)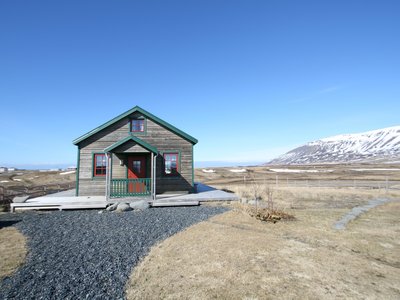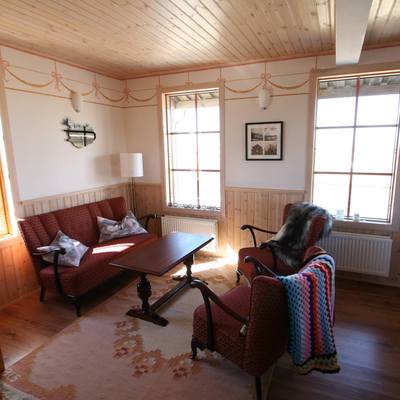 Skólagata is a charming old and renovated house located in a small and tranquil fishing village in North Iceland.

Hofsós is beautifully located at the fjord Skagafjörður and has one of Iceland's most beautiful swimming pool with a stunning view over the fjord. Skagafjörður area is famous for its horse breeding and horse farming, with plenty of opportunities for horseback riding.

The house has two bedrooms on the upper floor, a well-equipped kitchen and a living room. There is no TV in the house. A washing machine is at your disposal. Outside you can enjoy the peaceful environment on the small terrace.
Key facts
2 bedrooms
Max 5 persons
60 m2
Reference code N3006
Location
4 hours 31 mins from Keflavík Airport
1 min from the next gas station
1 min from the next grocery store
4 hours 3 mins from Reykjavík City Center
Hofsós is a small village at the north-east end of Skagafjörður fjord in North Iceland. The region of Skagafjörður is known for its great variety of horses and singers.

Hofsós is one of the oldest trading ports in northern Iceland dating back to the 16th century. Nowadays it is best known for having the most beautiful swimming pool in Iceland. In the village are a restaurant, gas station and a shop. Also of interest are the Icelandic Emigration Center, a museum that tells the story of the Icelanders that emigrated to North America in the 19th century. The next nearby town is Sauðárkrókur.

Sauðárkrokur is a centre for commerce and services in the district, and an important link in Iceland's food production in terms of fishing and dairy production. The population (ca 4.000) of Sauðárkrókur has grown steadily in recent years. You find all basic services here.
Viatis recommends
Hofsós Thermal Swimming Pool
Seal watching at Hvítserkur Rock
Sea Cliffs Kálfshamarsvík
Kolugljúfur Canyon and Waterfalls
Siglufjörður - Iceland's northern-most town
Other options to explore
Not what you were looking for?
Here are two more listings that may interest you.