Very affordable Summerhouse for 4 People in West Iceland
Lækjarhvammur in West Iceland, close to
Reykhólar

(75 km)
Lækjarhvammur is an affordable holiday home close to the north coast of the Snæfellsnes peninsula in the village of Búðardalur.

Experience the remoteness of the Icelandic village life. The house is only about 100m walking distance from the sea from where you can oversee the area. The Snæfellnes peninsula has plenty of things to explore, from lava fields to stunning cliffs in the southern part, to the stunning views of the Snæfelsjökull glacier and its surrounding National Park with plenty of hiking options.

The three-bedroom house offers a simple interior and sleeps four people. You have a kitchen with a microwave, and a living room with TV, radio/CD. Bathroom: WC/bathtub. To your convenience, there is also a washing machine. The patio has a somewhat wind-protected corner with sun and garden chairs and a gas grill for your meals. There is also a small garden green surrounding the house.

Parking right in front of the building.


Key facts
3 bedrooms
Max 4 persons
79 m2
Reference code W270
Sleeping arrangements
First floor
Bedroom 1

Bedroom 2

Bedroom 3
Location
2 hours 31 mins from Keflavík Airport
3 mins from the next gas station
2 mins from the next grocery store
2 hours 3 mins from Reykjavík City Center
Búðardalur is a small village located by the fjord Hvammsfjörður. It was an important place during the settlement times where the viking had a temporary stop when coming to the area. Even today this village serves as a popular stop when traveling to the Westfjords. There is a supermarket and some restaurants as well as a gas station.

Close by is the farm Eiriksstaðir where Eric the Red /Eiríkur Rauði lived. He was the one that discovered Greenland and then later his son Leifur Eiriksson discovered America.
Viatis recommends
Eiríksstaðir - living museum, viking house
Guðrúnarlaug a historical, reconstructed bath
Seal Watching at Ytri Tunga
Sightseeing by boat from Stykkishólmur
Snæfellsjökull Glacier National Park
What guests are saying
Wistler & Ingri from Holland

»We loved this sunny house with see view. Much light, nostalgic, good atmosphere.«
Patric, Valene with 2 children, from France

»We spent very nice 3 days in your house. The view is "magnifique". We loved the french glasses with birds! Now, it's the end of our trip. 2 days in Reykjavik and after return in France. «
Yuri from Holland

»Great curtains, nice & clean house. Thank you for the nice place from which we can drive to other nice places in Iceland. «

Feefo is an independent review system that gathers genuine feedback from verified customers about our service and products.
Cleanliness 4.3

Condition of the house 4.3

Equipment 4.3

Location 4.2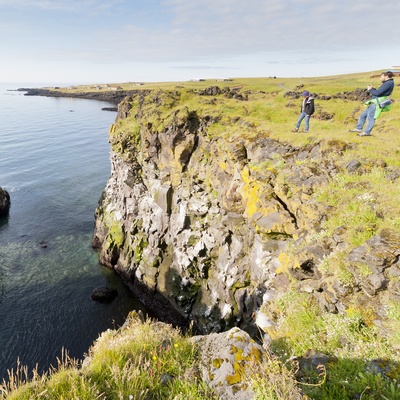 Other options to explore
Not what you were looking for?
Here are two more listings that may interest you.